Flinders Street Serviced Apartments
1998 – 2001
The building comprises retail, reception and meeting rooms on the ground floor, a five-storey spiral car park above that and then thirteen floors of apartments, sixty-four large apartments in total, all with balconies.
The building is on the south edge of the city with views over the Yarra River and the Botanical Gardens. The design is treated as an infill for the first six storeys with a set back tower for a further twelve storeys. The tower is cut away on the corners to allow views to the south from the northern apartments.
The apartments are very generous in relation to the market; averaging 95m2 for two bedrooms, the two top floors are given over to two apartments per floor with three bedrooms each.
The floor to floor height is 3200mm giving ceiling heights close to 2900mm. The building was a very economical build with construction costs considerably less than the average for city apartment building. This was achieved by working directly with the concrete panel and window fabricators, allowing windows to be installed from inside the building limiting the need for scaffolding.
The design stitches the building into the south-facing streetscape using vertical and horizontal elements of the same scale, referencing buildings of the last century in the street. The north elevation reveals the gridded structure of the building.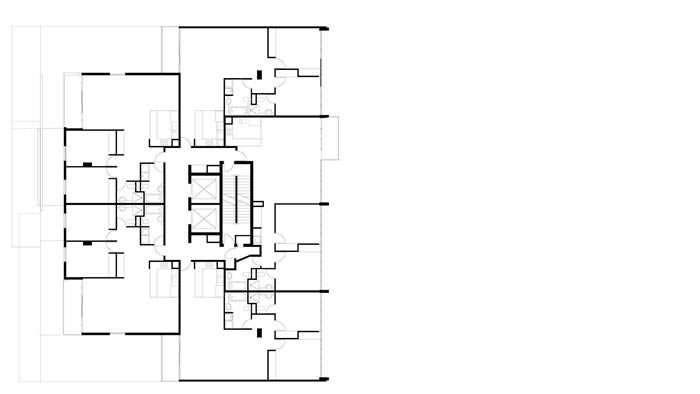 Photography
John Gollings, Geoff Crosby